ximena vengoechea
Mar 08
xkcd: Infinite Scrolling: if books worked like webpages -
Ha. In keeping with the theme of my post on screen-free reading and writing, an xkcd gem from the archives: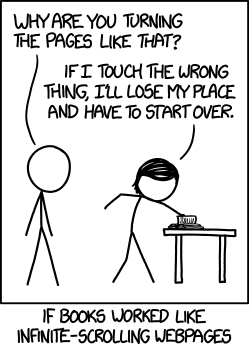 [video]
Mar 05
[video]
Feb 25
"Without music I should wish to die. Even poetry, Sweet Patron Muse forgive me the words, is not what music is." —
Happy birthday, Edna St. Vincent Millay! (via explore-blog)
On that note, here's what got me going this morning. In concert this weekend!
(Source: , via explore-blog)
Feb 23
"Don't be the best one in the room. Go be somewhere where you can learn from other people."
— Nick Campbell
Always, always, always be learning.
Feb 20
The Joys of Screen-Free Thinking -
I'm on HuffPo!
I wrote a piece about being a dinosaur in the age of digital devices. It was written by hand, but for your digital consumption, now available online :)
Feb 18
I'm going to recommend you listen to this song  while you watch this gif.
(Source: theblurg)
Feb 17
"To be an artist or a writer is to be this weird thing — a hand worker in an era of mass production." —
Susan Sontag on writing, productivity, elitism, and the purpose of literature (via explore-blog)
Something I'm thinking about lately, mostly because I'm writing more. (And by hand, believe it or not.)
(Source: , via explore-blog)